The Great Vault is essentially a re-thinked and improved version of BFA weekly loot chest. Instead of dropping a single random item, the Great Vault contains up to 9 items to choose from. Buying a Great Vault boost will allow you to unlock all 9 items and select the item with optimal stats.
We provide all 3 types of Great Vault carry: Mythic+ dungeons, Raid, and Rated Arena, each option adds up to 3 items to choose from. You can construct your personal Great Vault boost by choosing only the content you want.
The Great Vault Boost Includes
1-9 items 470-483 ilvl as weekly rewards in the Greeat Vault.
Completion of 1, 4, or 8 Mythic+ Dungeons of chosen level. We recommend setting for the highest keystone level to maximize ilvl of the weekly item.
2, 5, or 9 bosses defeated in Amirdrassil raid.
1250, 2500, or 5500 Honor Points earned in rated arena.
IMPORTANT NOTE: while constructing your personal Great Vault carry, keep in mind that item level of GV weekly reward depends on difficulty of content in which this item was unlocked. For example, maximum item level from Mythic+ is obtained at +15 keystone level; in the same manner, Mythic raid awards the highest possible item level of weekly raid reward; item level of PvP item depends on your current arena rating.
Delivery time
Service takes 1-7 days depending on the chosen options.
Requirements
Level 70 character. In case you don't have one, you can use our Powerleveling Service.
No gear requirement.
How The Great Vault Boost Works
When designing WoW Dragonflight, Blizzard took into accounting the negative player feedback about extremely random loot system based on weekly chest. It used to contain a single item randomly drawn from a huge pool of potential items. Needless to say that getting BiS Mythic+ items from weekly chest depended mostly on chance. Now, the system is completely re-envisioned and known by the name Great Vault. Instead of containing only a single item, the Great Vault offers up to 9 items to choose from and it's up to you to choose the item with best stats. With our Great Vault boost service you can expand your options set to the limit and unlock all 9 item options.
This is what Great Vault interface looks like: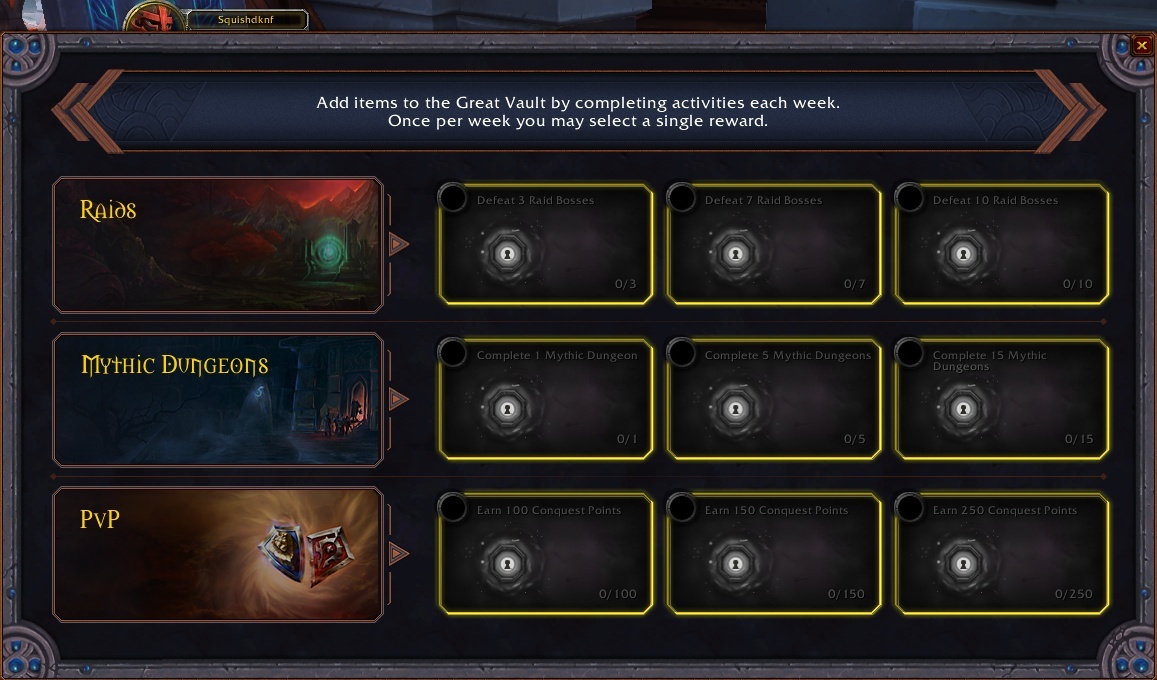 As you can see there are 3 rows of content: Raid, Mythic+ dungeons, and Rated PvP. Each row contains 3 challenges that can be completed every weekly reset. By completing each challenge you expand item options pool by 1 item. Even though you can select only 1 item at the end of the week, you have the choice of selecting the item with best stats. It's much better than relying on RNG, isn't it?
The Great Vault Weekly Challenges for Sale
Amirdrassil raid challenge (2-5-9 bosses).
Mythic+ dungeons (1-4-8 dungeons).
Rated PvP (1250-2500-5500 Honor Points).
Each challenge of the Great Vault unlocks an item option you can select at the end of the week. Item level of this item is determined by the highest difficulty of content you have completed. Example: you have completed full Amirdrassil run on Normal difficulty, but also killed half of its bosses on Heroic difficulty. As as result you will receive Normal reward for 5 and 9 bosses and Heroic reward for 2 bosses.
What payment methods are available?
We offer many popular payment methods: Visa/MasterCard, PayPal, Apple/Google Pay, Sofort, iDeal and more. You may also request to pay by direct bank transfer via SWIFT/SEPA/ACH or with Crypto. To do so please contact our Customer Support.
After you have placed an order our Customer Support will contact you within 15 minutes (during our working hours) via Email or Discord you left when placing order.
How to contact us
Discord - join our server by this link. We will will immediately message you after you have joined. Please make sure that receiving Direct Messages from server members is allowed in your privacy settings. Instructions: link.
Email - send all your requests to

[email protected]

Working Hours - our Customer Support is online 24/7. If have any questions before placing an order - feel free to message us and we will respond.